Aha! Island Preschool Initiative
Mississippi Public Broadcasting was one of two stations selected to pilot a new preschool STEM initiative called AHA! Island, which is a media-based project produced by WGBH in Boston. The program stars an entertaining cast of animals. AHA! Island capitalizes on the power of story, appealing characters, and relatable storylines to teach computational thinking (CT) to preschoolers.
Resources include animated and live-action video, a web site, hands-on activities and related children's books for families. This project is funded by the National Science Foundation and is at the forefront of a national education movement calling for children to learn and practice the skills needed for CT at a young age.
What is Computational Thinking?
There are a number of core skills behind computational thinking. AHA! Island focuses on three that are engaging and age-appropriate for preschoolers:

Computational thinking (CT) is a creative way of thinking that enables children to identify and systematically solve problems. It is applicable to a wide range of disciplines, including math, science, engineering, and literacy. Computational thinking is not the same thing as coding or computer programming, but it is a precursor that can help preschool children learn how to solve problems in a way that could be carried out by a computer. CT is something that can be learned at a young age, and it can be practiced in non-programming contexts (in other words, without a computer). Just like children sing the alphabet before they learn to read, or count before they learn addition and subtraction, preschoolers can practice basic CT skills through games and hands-on activities, which can set the groundwork for more complex skills later on.
Families may not realize it, but they use these computational thinking skills every day! When parents perfect a recipe, they probably use the three-step process, create, test, improve! When they plan an afternoon of running errands, they step it out—they think about the tasks they need to complete and decide on the order to do them in. And when family members face a problem like trying to fix the TV remote, they make it work by figuring out what the problem is and then coming up with a solution.
Watch Aha! Island Episodes
Unstuckeroo!
Maisy, Daisy, Fred and Bo get their arms stuck in a vase and need to get unstuck in time for the dance competition. They step it out in order to make it to the dance competition in the nick of time.
To Win the Prize, Be Wise
Maisy, Daisy, Fred and Bo must figure out what order they should use in order to win Elle the Elephant at the county fair. The monkeys step it out to make a win and take Elle the Elephant home.
Going Bananas with Lemonade!
In this video, the monkeys make lemonade. Mrs. Flamingo did not look happy when she tried it. They make it work by checking their steps to figure out what the problem was.
Piloting Family CT Resources
To bring AHA! Island resources to families, the project is capitalizing on state-based systems, designed to help parents access high-quality support to effectively prepare their children for school.
Recognizing that current programs for young children and their families often operate in isolation, at cross-purposes, or without enough resources, the BUILD Initiative provides state systems with planning support, training, technical assistance, and evaluation services.
WGBH and BUILD consulted with the departments of early education and care and the state systems of public broadcasting in two states (Maryland and Mississippi) to develop and pilot family engagement models sharing instruction on computational thinking.

Mississippi Public Broadcasting is working with both the state's Library Commission and its Rotary Clubs to pilot AHA! Island resources. This spring and fall, libraries in DeSoto, Sunflower, Holmes, Hinds, Adams, Pike, Harrison, Tishomingo, and Lauderdale counties are testing a six-session program where families learn about and practice CT together.
In addition, the Rotary is sending volunteers into preschool classrooms in Starkville, Winona, Meridian, Forest, Jackson, Canton, Eupora, Greenwood, Lexington, Louisville, and Yazoo City, MS where a 9-week program using books, video, classroom- and home-based activities is being piloted.
Tinyville Town Gets to Work! by Brian Briggs
Just a Little Bit by Ann Tompert
Pete the Cat: Robo-Pete by James Beam
The Backwards Birthday Party by Tom Chapin
Teddy Bear Patterns by Barbara Barbieri McGrath
The Cookie Fiasco by Dan Santat.
Aha! Photos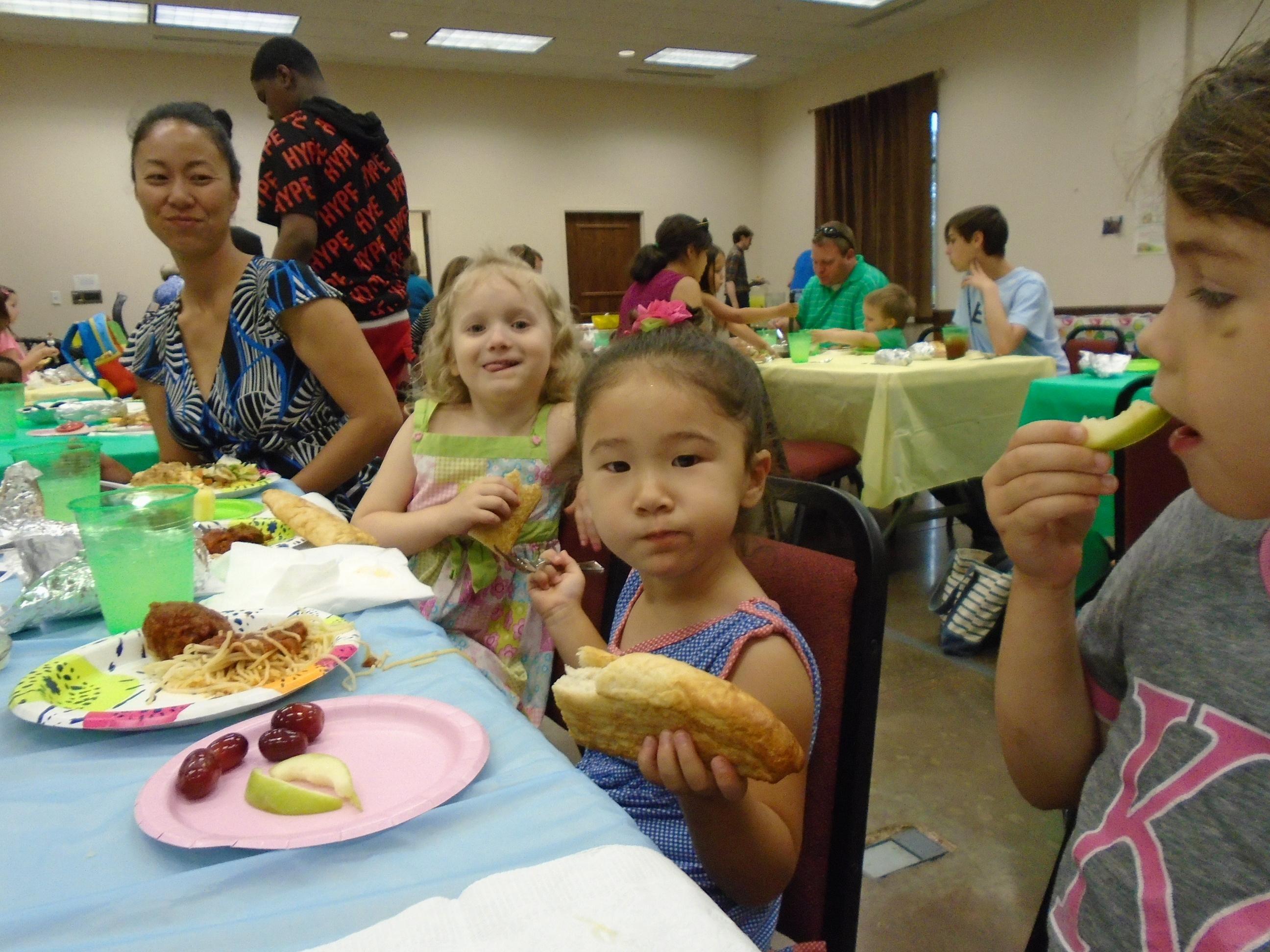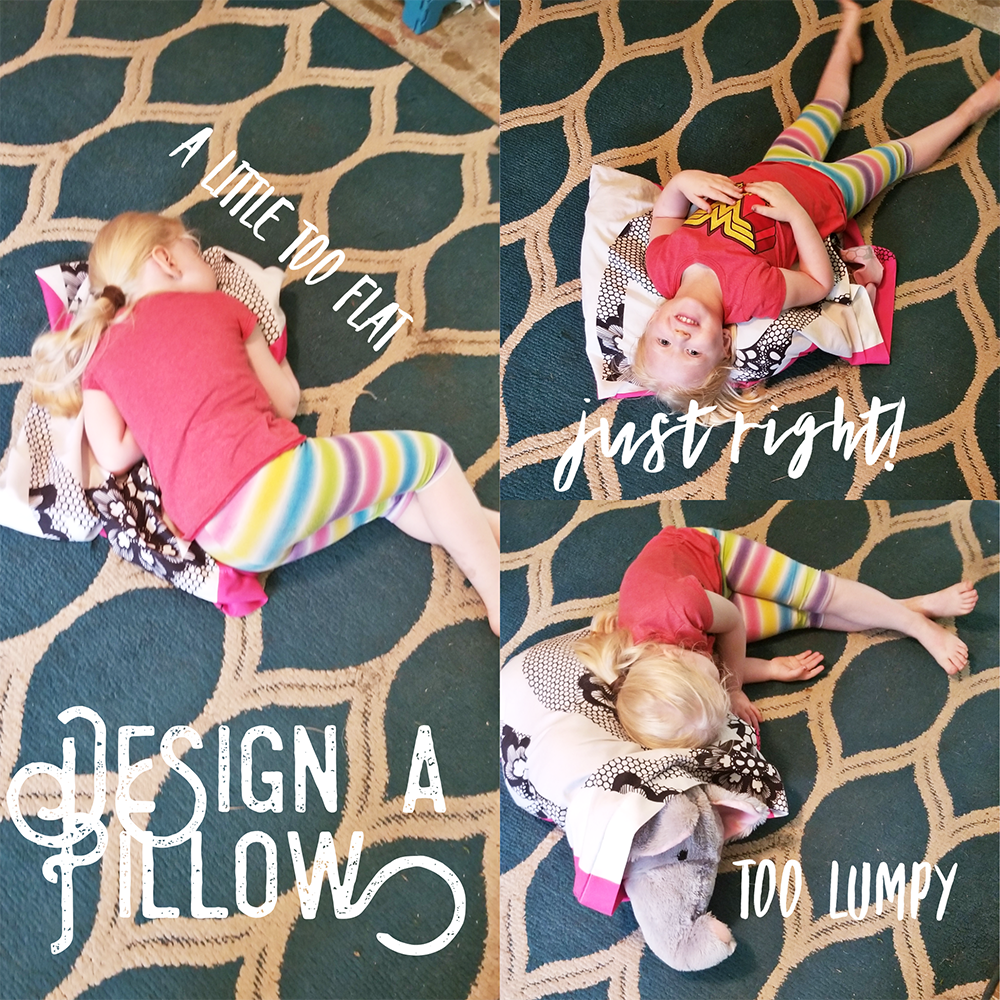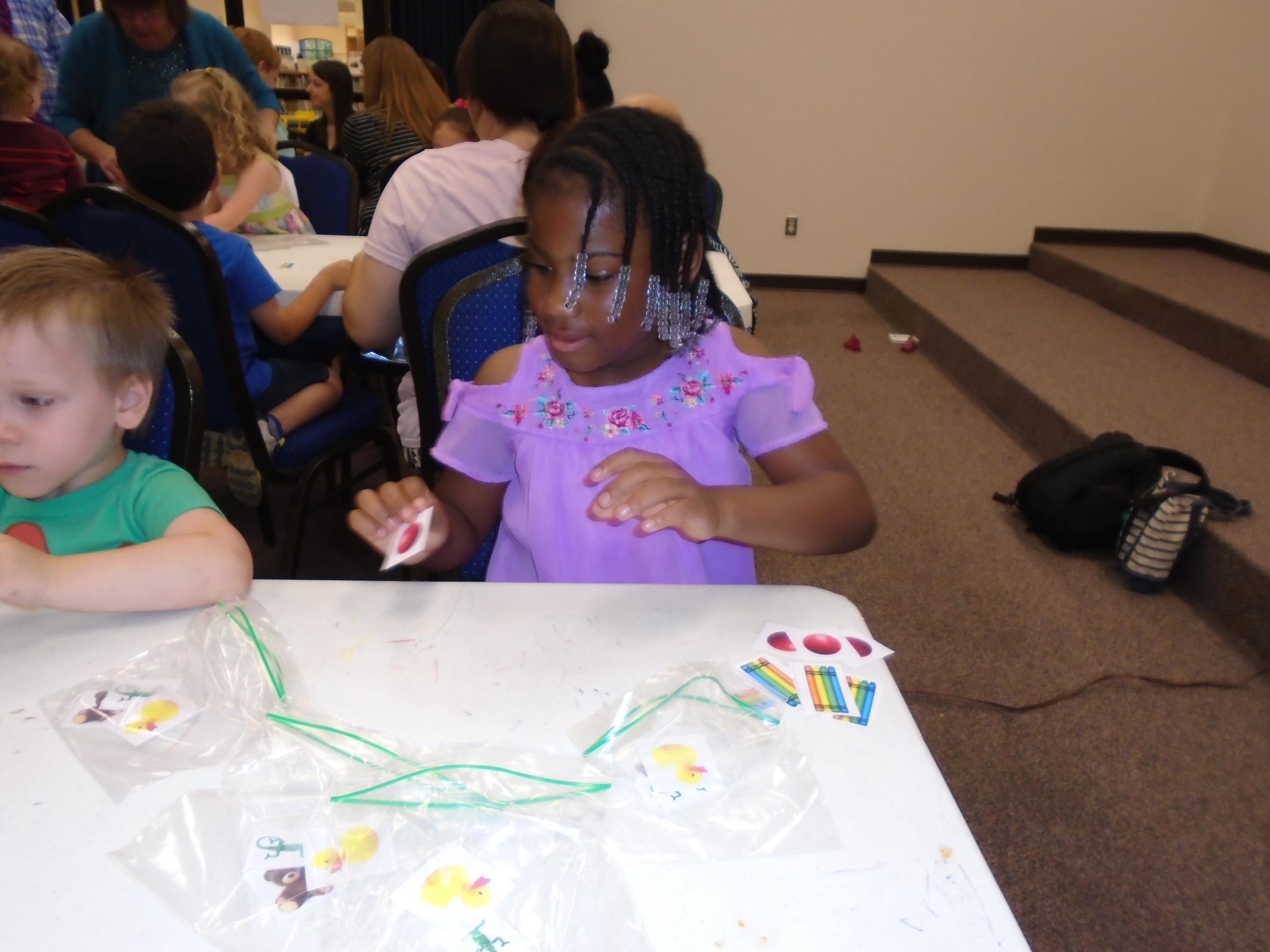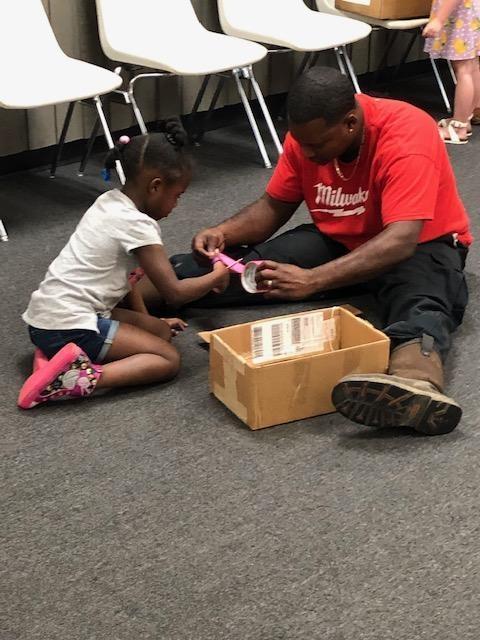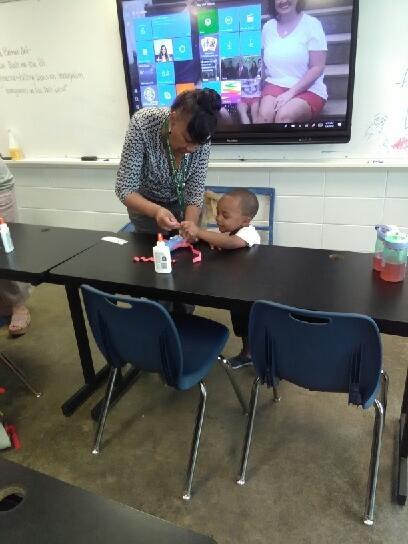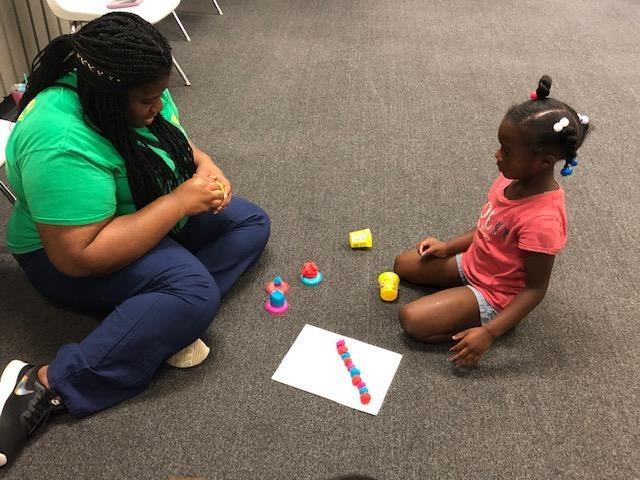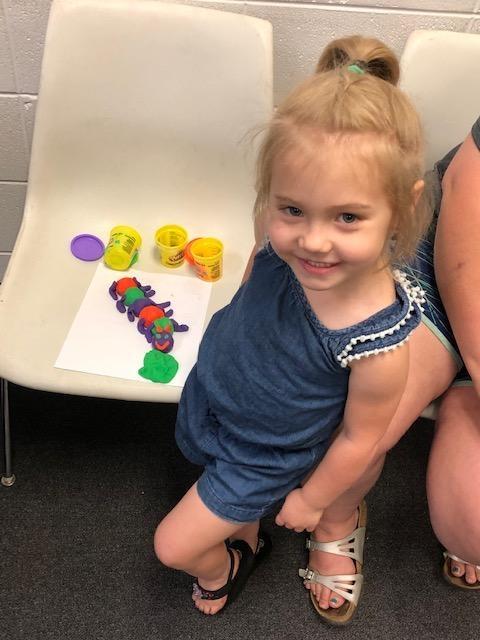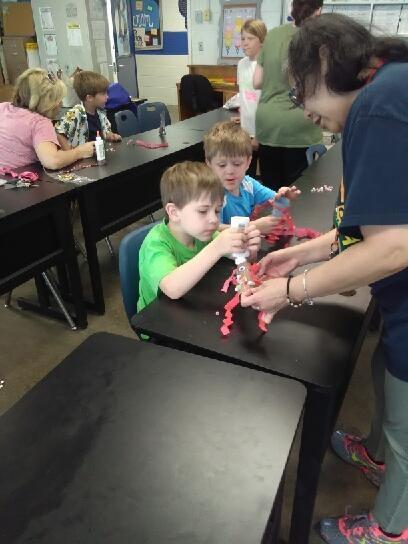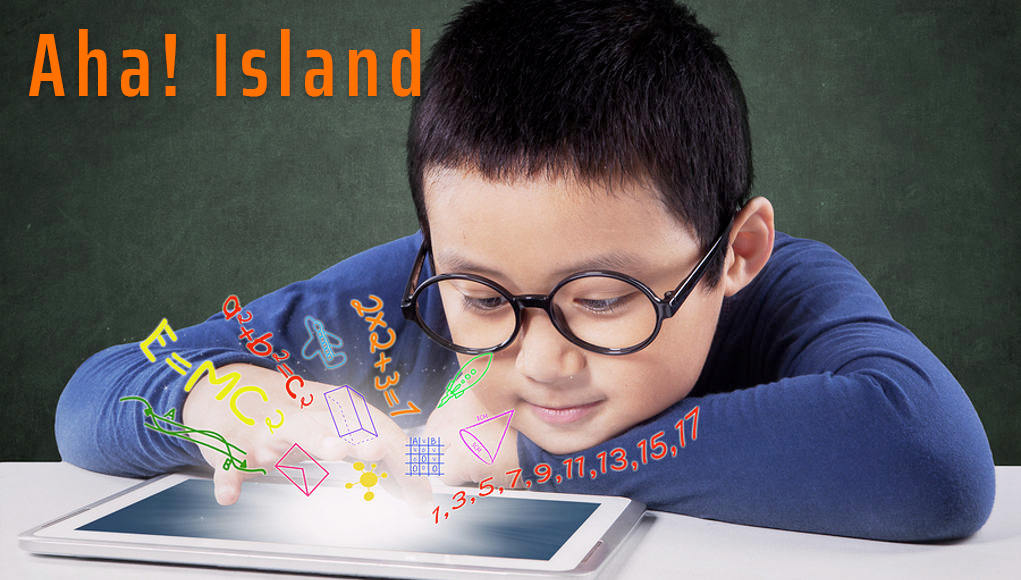 Head Start Early Learning Outcomes Framework
The Head Start Early Learning Outcomes Framework (ELOF) includes broad areas of early learning for infants, toddlers, and preschoolers through age five. It describes what young children should be able to do in each of the five domains, based on comprehensive research in early education.
AHA! Island aligns to ELOF's five central developmental domains:
Cognitive Self-Regulation (Executive Functioning)
P-ATL 7. Child persists in tasks.
P-ATL 8. Child holds information in mind and manipulates it to perform tasks.
Initiative and Curiosity
P-ATL 10. Child demonstrates initiative and independence.
P-ATL 11. Child shows interest in and curiosity about the world around them.
Creativity
P-ATL 12. Child expresses creativity in thinking and communication.
P-ATL 13. Child uses imagination in play and interactions with others.
Social and Emotional Development
Relationships with Adults
P-SE 1. Child engages in and maintains positive relationships and interactions with adults.
P-SE 2. Child engages in prosocial and cooperative behavior with adults.
Attending and Understanding
P-LC 1. Child attends to communication and language from others.
Communication and Speaking
P-LC 4. Child understands, follows, and uses appropriate social and conversational rules.
Print and Alphabet Knowledge
P-LIT 2. Child demonstrates an understanding of how print is used (functions of print) and the rules that govern how print works (conventions of print).
Comprehension and Text Structure
P-LIT 4. Child demonstrates an understanding of narrative structure through storytelling and retelling.
P-LIT 5. Child asks and answers questions about a book that was read aloud.
Perceptual, Motor, and Physical Development
Gross Motor
P-PMP 1. Child demonstrates control, strength, and coordination of large muscles.
P-PMP 2. Child uses perceptual information to guide motions and interactions with objects and other people.
Fine Motor
P-PMP 3. Child demonstrates increasing control, strength, and coordination of small muscles.
Counting and Cardinality
P-MATH 1. Child knows number names and the count sequence.
P-MATH 2. Child recognizes the number of objects in a small set.
P-MATH 3. Child understands the relationship between numbers and quantities.
Operations and Algebraic Thinking
P-MATH 7. Child understands simple patterns.
Geometry and Spatial Sense
P-MATH 9. Child identifies, describes, compares, and composes shapes.
P-MATH 10. Child explores the positions of objects in space.
Scientific Inquiry
P-SCI 1. Child observes and describes observable phenomena (e.g., objects, materials, organisms, and events).
Reasoning and Problem-Solving
P-SCI 5. Child plans and conducts investigations and experiments.
P-SCI 6. Child analyzes results, draws conclusions, and communicates results.
K12 Computer Science Framework
The K12 Computer Science Framework was created by several organizations, in collaboration with school districts, to develop guidelines for computer science education in kindergarten through twelfth grade. The goal of the framework is to "inform the development of standards and curriculum, build capacity for teaching computer science, and implement computer science pathways."
AHA! Island aligns to several of the K12 Computer Science Framework's Core Practices:
Practice 3. Recognizing and Defining Computational Problems
P3.2 Decompose complex real-world problems into manageable sub-problems that could integrate existing solutions or procedures.
Practice 4. Developing and Using Abstractions
P4.1 Extract common features from a set of interrelated processes or complex phenomena.
P4.4 Model phenomena and processes and simulate systems to understand and evaluate potential outcomes.
Practice 5. Creating Computational Artifacts
P5.1 Plan the development of a computational artifact using an iterative process that includes reflection on and modification of the plan, taking into account key features, time and resource constraints, and user expectations.
P5.2. Create a computational artifact for practical intent, personal expression, or to address a societal issue.
P5.3. Modify an existing artifact to improve or customize it.
Practice 6. Testing and Refining Computational Artifacts
P6.1. Systematically test computational artifacts by considering all scenarios and using test cases. P6.2. Identify and fix errors using a systematic process.
P6.3. Evaluate and refine a computational artifact multiple times to enhance its performance, reliability, usability, and accessibility.
Practice 7. Communicating About Computing
P7.2. Describe, justify, and document computational processes and solutions using appropriate terminology consistent with the intended audience and purpose.
Pilot Program Aha! Island Libraries
| | |
| --- | --- |
| County | Name of Library |
| Adams | Judge George W. Armstrong Public Library |
| DeSoto | M.R. Davis Public Library |
| Harrison | Biloxi/Harrison County Public Library |
| Harrison | Pass Christian Public Library |
| Hinds | Annie T. Jeffers Public Library |
| Hinds | Willie Morris Public Library |
| Lauderdale | Meridian-Lauderdale County Public Library |
| Lauderdale | Southeast Elementary School |
| Montgomery | Winona-Montgomery County Public Library |
| Pike | Progress Public Library |
| Pike | McComb Public Library |
| Prentiss | George E. Allen Public Library |
| Sunflower | Sunflower County Library |
| Warren | Warren County-Vicksburg Public Library |
Aha! Island Rotary Centers/Schools
| | |
| --- | --- |
| City | Center/School Name |
| Canton | Agape Educational Center |
| Canton | Over the Rainbow |
| Eupora | V's Peace, Love and Happy Faces |
| Hinds | Walton Elementary School |
| Lexington | Wee Care Nursery and Learning Center |
| Meridian | Crestwood Elementary School |
| Meridian | T J Harris Elementary School |
| Meridian | Oakland Heights Elementary School |
| Starkville | First Baptist Church-Creative Learning Center |
| Winona | Winona Christian Preschool |
| Yazoo City | A-Z Preschool & Learning Center |