2020 MPB Education Book Picks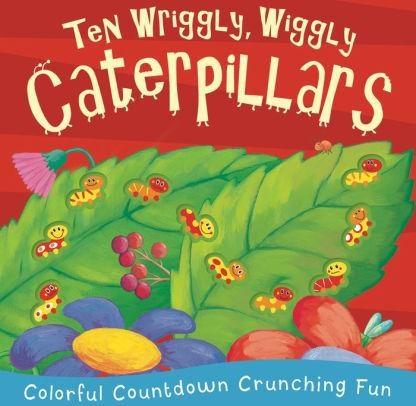 JULY 2020
Ten Wriggly, Wiggly Caterpillars
Follow the adventures of these bright, bold caterpillars in this peek-through counting book! Young readers will delight in the colorful, tactile pages as they watch the die-cut caterpillars decrease from 10 to 1 with each turn of the page.
Activity #1 - I See a Caterpillar
Instructions: Draw your very own caterpillar. Use your favorite drawing tools (crayons, markers, color pencils) and paper to draw a caterpillar. Be creative by adding tiny legs and a big smiley face to your art. Once you have finished drawing, cut it out and show others your work. Give your caterpillar a special name.
Activity #2 - Ten Moving Things
Instructions: Gather some paper, drawing tools, scissors, glue and string.
Cut out ten squares.
Write numbers 1-10 on the cards (each card is a number)
Draw your choice of things that move inside or outside your home (family pet, car, a chair, toy) on each card. After you have completed these steps, place a hole in each card at the top and place the pictures in order by sliding them through the string. Be sure to add a knot in the sting at the top of the first picture to keep them in place and a hole at the bottom of the following pictures 2-10. Leave some string to hang after card number 10 to ensure it won't fall off.
As you share this activity with family and friends, start at the bottom with number 10. Remove each picture from the string as you share with them things drawn that moves.
Hint: You are counting backwards.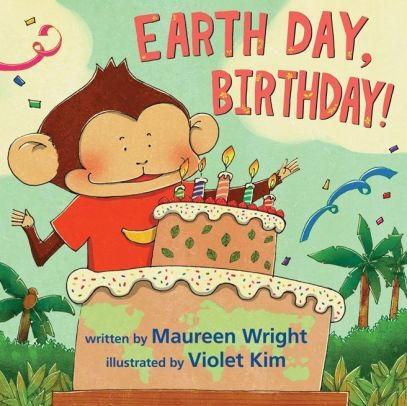 APRIL 2020
Earth Day, Birthday
It's Earth Day—but silly Monkey wants to celebrate his birthday instead. By Maureen Wright, Violet Kim (Illustrator).
Activity #1 - Happy Birthday Earth!
Instructions: Make a birthday cake celebrating our earth. Be creative by making an earth image/design on the cake. Don't for get to add a candle.
Activity #2 - Recycle Please!
Instructions: Make a recycle box. Decorate your box or bin by adding pictures and words of things that can be recycled. By doing this you will be sure to place recycled materials in the inside and take them to a community recycling container.
Activity #3 - Planet Earth
Instructions:
Plant a tree
Make a solar system mobile- use recycled materials around your home to make your activity.
Materials needed- drawing paper, crayons, markers, or color pencil, scissors, circle shape pattern, string, and large item to attach each planet on a string (large clothes hanger or yard stick)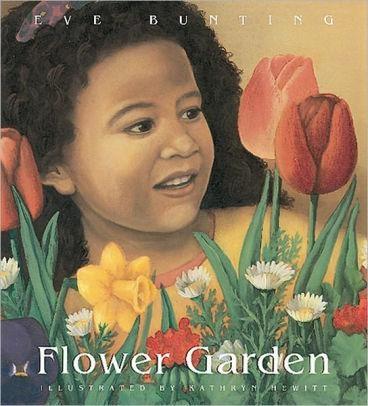 MAY 2020
Flower Garden
Follow the progress of a little girl and her father as they purchase "a garden" and board the bus to carry it home. By Eve Bunting, Kathryn Hewitt (Illustrator).
Activity #1 - Planting a Seed
Instructions: Prepare to have fun planting seeds. This activity can be done inside or outside.
Materials needed- flower seeds, flower pot (your choice), planting soil, water. Be sure to read the best instructions on the flower seeds pack to take care of your flower as it grows.
Activity #2 - A Flower Portrait
Instructions: Choose a picture of your favorite flower, drawing paper, coloring tools (crayons, markers, color pencils, paint pens), your favorite music and a perfect place to do your art.
Have fun. Share the portrait with your family and find the perfect place to put it on display for all to see.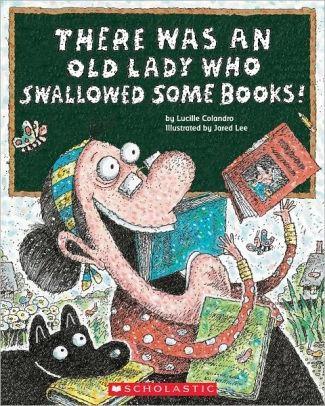 JUNE 2020
There Was An Old Lady Who Swallowed Some Books!
With rhyming text and funny illustrations, this lively version of the classic song will appeal to young readers with every turn of the page.
Activity #1 - My Favorite Books to Read!
Instructions: Make a collage of each of your favorite book's covers. Write the name of the books on small pieces of plain white paper. Add a picture to give more detail of what the book is about. Place the cards on a large poster board. Share and retell the stories with family and friends.
Materials needed- poster board of a large pieces of paper, markers, crayons, plain white paper, scissors, and glue.
Activity #2 - The Whole Story!
Instructions: Make a storytelling board. Use an empty box to create tri-fold poster. Draw a picture of the main character and other story figures in the story. Place the number of each figure in the corner of the drawing as each one happens in the story. For example, the little old lady #1.
Materials needed- large empty box, markers, crayons or color pencils, drawing paper, scissors and glue
Activity #3 - Book Trivia
Instructions: Read your favorite story aloud to family and friend. Choose one of your favorite books. Reread the story and make a list of questions to ask them about the story. Have your family/friend team up among each other to make the trivia game fun and exciting. Be sure to tell them to pay close attention to the story as you read. You may want to dress up as one of the characters in the story.
Materials needed-your favorite book, writing tools (pencil, pen, paper)