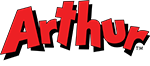 Help kids learn about nutrition and healthy eating, with this guide from Arthur: "D.W. the Picky Eater."
Help children learn easy ways to stay physically fit, in this guide from Arthur.
Use Cyberchase to help inspire kids to get active with math – from encouraging them to be active and eat well, to teaching them about reducing waste and growing gardens, all while caring for the health of their community.
By keeping a few things in mind, parents can help their children to develop a positive, healthy body image that they can carry with them through adolescence and adulthood.
Materials
Rice cakes or pita bread
Spreading knife
Cream cheese or peanut butter
Raisins
Apple slices
Bananas